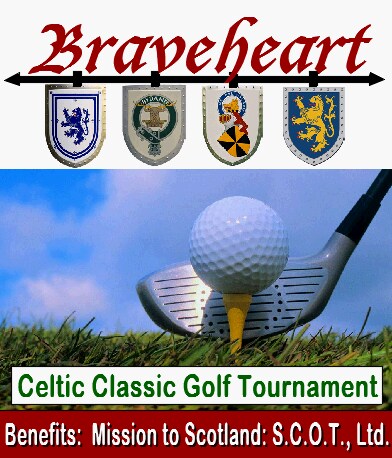 Write checks c/o:
"S.C.O.T., Ltd."

Send to:
Braveheart Golf Tournament
143 Dogwood Drive
Bernville, PA 19506


Questions?
Contact Bill Orr
Proshop:(717) 866-4481 or
Location:
Lebanon Valley Golf Course (click for website)
Myerstown, PA 17067

Format:
4 Person Scramble Format
Friday, August 31, 2007
Tournament Begins at 1 PM.
Tee Times to be Assigned as Reservatons are Received.
Cost:

$60.00 per golfer includes:
18 holes of golf with cart PLUS
food and non-alcoholic drinks.

Expect team & Individual golf prizes, hole in one contest; longest drive & closest-to-the-pin & more!
Purpose:
Our teams called to Scotland are volunteers who are seeing the collapse of many families along with the children who are consequently unattended and grow up without the love and nurture of a healthy, loving family relationship. Through a network of non-denominational organizations our teams inspire the families to regroup, rekindle, and revive through physical, educational and spiritual work that sharpens the focus. None of the workers for SCOT,Ltd. are paid. All are volunteers and raise their own funds to do their work in bonny Scotland. Thank you for your help and co-operation with this non-profit, IRS approved, incorporated charitable organization.